Last Updated on June 28, 2023 by hassan abbas
When the drain pipes or water supply pipes encased in or run beneath the concrete slab underneath your house crack, burst, or break, this is a slab leak. Slab leaks may also occur when the slab itself cracks. Some of the most frequent causes of leaks include corrosion in the pipes, pipe wear from contact with gravel, concrete, and other pipe systems, poor pipe quality or installation, excessive water pressure, and inappropriate slab placement or shift. Leaks can occur for several other reasons, but these are some of the most common. There is a high incidence of a problem known as slab leaks in locations where houses are older and constructed on concrete foundation slabs.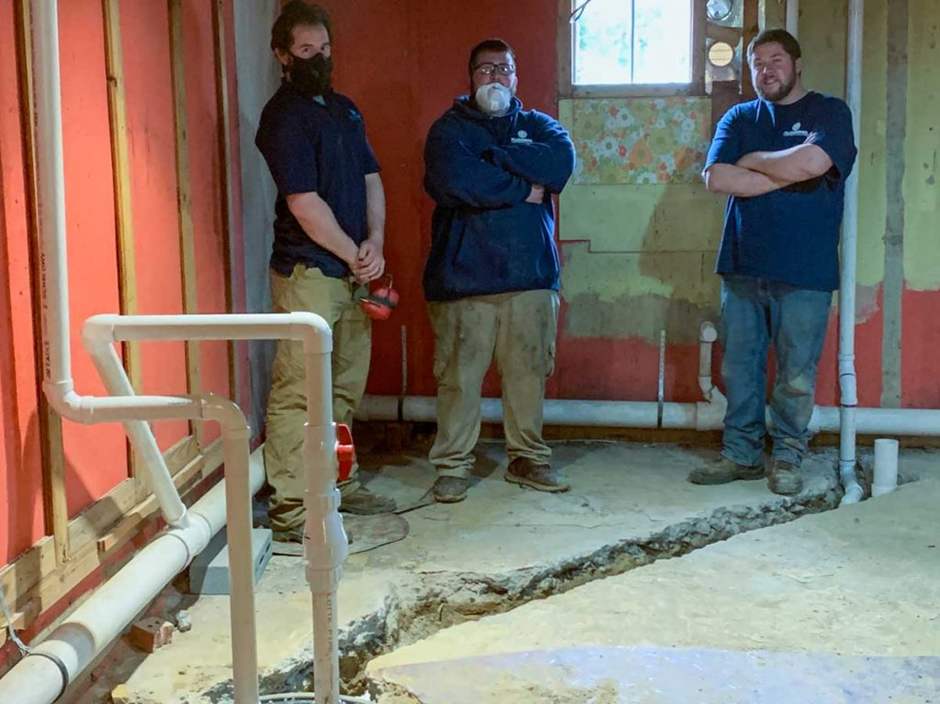 There are far too many slab leak repairs in the United States. Plumbers who have received enough training should have little trouble locating and diagnosing slab leaks. To find leaks in slabs, you will need the assistance of a professional plumber who can carry out an exhaustive detection method. A licensed plumber will be able to locate and slab leak repair on your property with a minimum amount of disruption to the structure due to their use of the appropriate tools and equipment, which are kept up to date. Following are the various affordable approaches to repairing the slab leaks:
Spot Repair:
If the leak is not too severe and the pipe itself is in excellent shape, you may be able to replace the piece of the line that is leaking and use new fittings. Even though this approach is fast, it is not particularly handy since it entails tearing up the concrete and then fixing the floor to be consistent with the flooring in the rest of the room.
Pipe Redirecting Work:
This technique makes use of brand-new pipes that are positioned above the ground. A plumber will reorganise everything to fit through the new lines. It requires a new set of pipes to be routed above ground through your house or around the exterior of the home, which means that several holes will need to be created in your house, or an exposed pipe will run down the side of your house outside.
Repiping:
This method replaces the pipes and is used in situations in which there are several water leaks or a client expresses a preference not to have their floor jackhammered and their flooring replaced. During this time, there will be a significant amount of work required. A full repipe, similar to rerouting, needs a reasonably intrusive operation that involves creating holes in the walls, ceilings, and floors and the necessity to repair the invasive apertures formed by the process.
Pipe Coating:
Pipe coating is a method for restoring pipes that use epoxy to form a new line inside the damaged one, so repairing pipes "in place." This method is known as "pipelining." It fills up the pinholes and prevents leakage. To crack the concrete foundation of your house, you won't need to open walls or use a jackhammer very often, if at all.
Your homeowner's insurance policy should include slab leak detection and water damage repair coverage unless you have disregarded the signs that a leak is there. On the other hand, they may not pay for the slab leak repair itself. A comprehensive home inspection is the only way to determine the best approach to repairing a problem.
Slab Leak Spot Repair:
Suppose you can localise the issue to a location that is reasonably simple to reach, and you are aware that just a tiny portion of the pipes need to be replaced. In that case, spot repair may be a viable alternative for repairing your slab leak at least for commercial buildings. However, it is often impractical to do so in residential settings because of the required disturbance and damage.
The concrete must be broken up using jackhammers to give pipe access, and the flooring must also be changed. If the leak is discovered to be more widespread than was first thought, or if it originates in a region that is difficult to reach, you may find that alternative leak repair options are a better choice. If the water lines are not in excellent condition, a spot repair will give temporary respite until the next leak occurs. It may be avoided by maintaining the water lines. As a result, the continuation of coverage from many different insurance carriers is contingent upon installing epoxy coating or new pipes.
Negative Aspects of Spot Repair:
Jackhammers are disruptive in both sound and appearance.
Dealing with the replacement of the floor after the repair might be expensive
It is not appropriate for buildings that have several leaks or large leaks
Possibly, this will be a temporary fix.
Time Required To Repair a Leaking Slab:
Slab leak repair could take a few hours up to roughly three days, depending on the technique utilised to perform the repairs. Finding the source of the leak might need an investigation, the cost of which could range anywhere from $150 to $400. The actualslab leak repair may range from a few hundred dollars for the epoxy to $2,000-6,000, depending on the technique, materials, and labour. An epoxy repair can cost as little as the lower end of the price range.
Repairing cracks in your foundation will typically cost you anything from $250 to $800. If your foundation has to be levelled, the cost will range between $1,000 and $3,000. Your homeowner's insurance policy could or might not pay for the entire cost of the repairs. Before beginning the process of looking for repairs, you should inquire with your insurance company about whether or not your coverage covers this kind of damage.
Conclusion:
Slab leak repair may cost anywhere from several hundred dollars to several thousand dollars, depending on the severity of the damage to the pipes and whether or not you need entirely new plumbing. Around $2,000 is the average slab leak repair cost in the United States. The cost of slab leak detection ranges from $150 to $400. Having to cope with a concrete foundation that is crumbling on your house, on the other hand, is going to cost you a lot more money. Repairing a slab leak may be accomplished in several diverse methods, depending on the job's specific requirements.
Author Bio:- Karl Brown
Karl, a marketing manager at EZ Leak Detection, loves to write about plumbing and HVAC services to make the life of the reader easier. Leakages in your property can be dangerous but not all the leaks are easily accessible. He has given extensive information about water leaks and slab leaks and tips to detect them quickly along with quick solutions to prevent you from inconveniences and health hazards.
Leakage problems and malfunction of appliances demand comprehensive solutions. Also, regular maintenance is not the thing to be missed for leading a life with zero hassles. Read our recent post related to leakage detection and repair, alerts for HVAC shutdown and how to repair it, and installation of AC and water heater in San Diego.